I don't think I have ever met one person who did not like Disney. I feel like it's part of everyone's childhood and bring heart warming feelings that are hard to forget. I myself am a Disney fanatic and I was super excited to find out our friends were going to be getting married in the most magical place on earth! Here's what you can expect at a Walt Disney World Wedding.
Our friends, Alexandra and Leonel, asked Ricardo and I to be part of their wedding party. We have been friends for years and were delighted that we would be part of their special and magical day. They are Disney fanatics just like us and were extremely excited that we would be celebrating it at Walt Disney World. The Disney Kid in me was screaming with joy ha ha. To be specific at the Grand Floridian Resort. My Sister, Brother in law, nephew, and Mom all traveled together to Florida for a week filled with festivities. Over all it was a great vacation and family trip! Here is what to expect.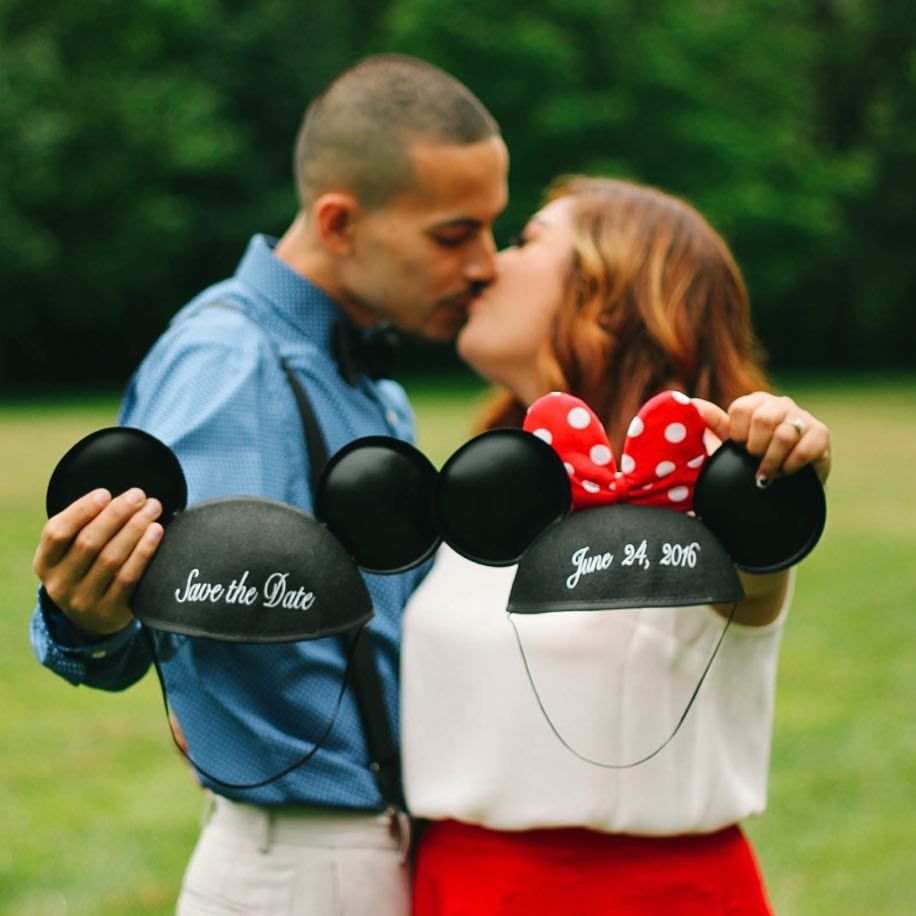 1. Everything is Disney themed! Including the bachelorette party!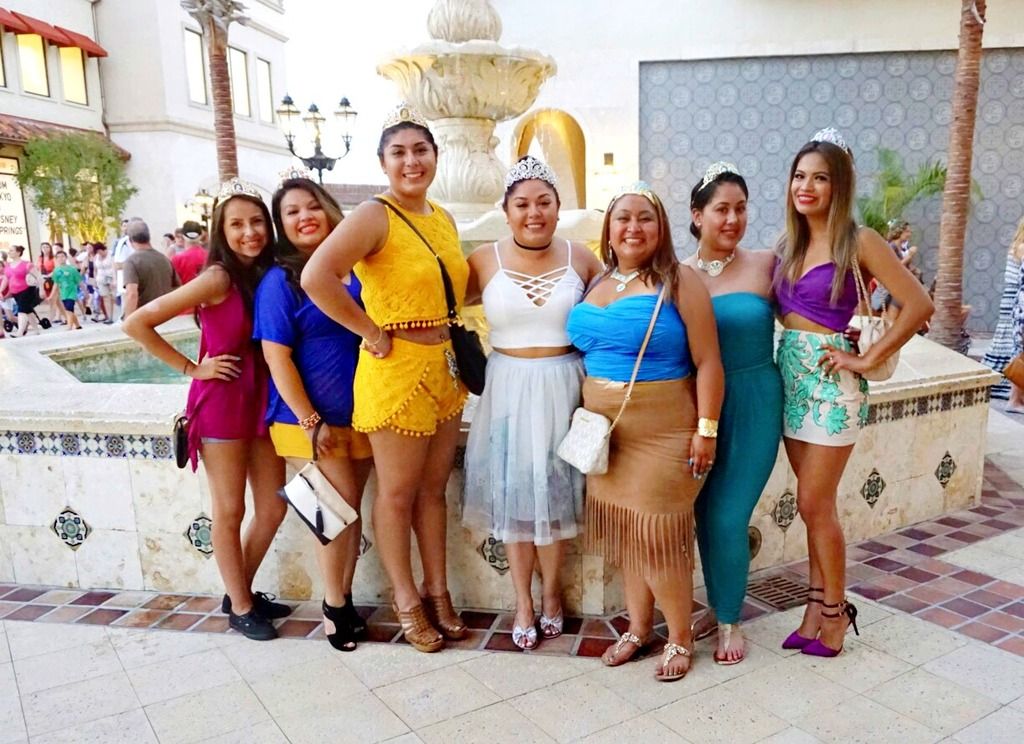 We all picked our favorite Disney princesses and got dolled up for the night in their colors. Can you guess who each one of us is? What is there to do for a successful bachelorette celebration? Plenty of fun things. Depends on what you want to do.
Disney Springs
, formally known as Downtown Disney is open free to the public. You don't need to pay to get in and the parking is free as well. Of course just make sure to bring some money to spend since it's filled with tons of Disney shops, restaurants, and the arcade Disney Quest! We walked around looking at the beautiful scenery and had a merry old time drinking and eating at
The BOATHOUSE Restaurant
. You have to try the coconut wild jumbo shrimp it's amazing! We sat right on the lake on a boat deck with the most beautiful view. It was very relaxing since you could feel the waves rocking the deck. We also hopped on over to
Sprinkles
, where they have a yummiest cupcakes! I devoured a confetti cupcake with strawberry ice cream. I'm a sucker for ice cream and this was heaven on earth!
2. Cutest Bridal Party Gifts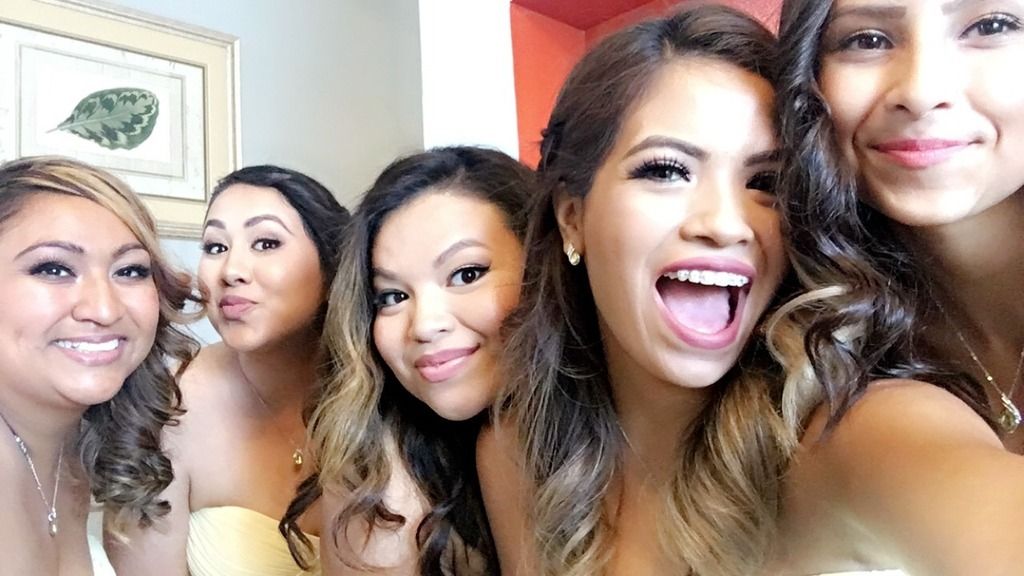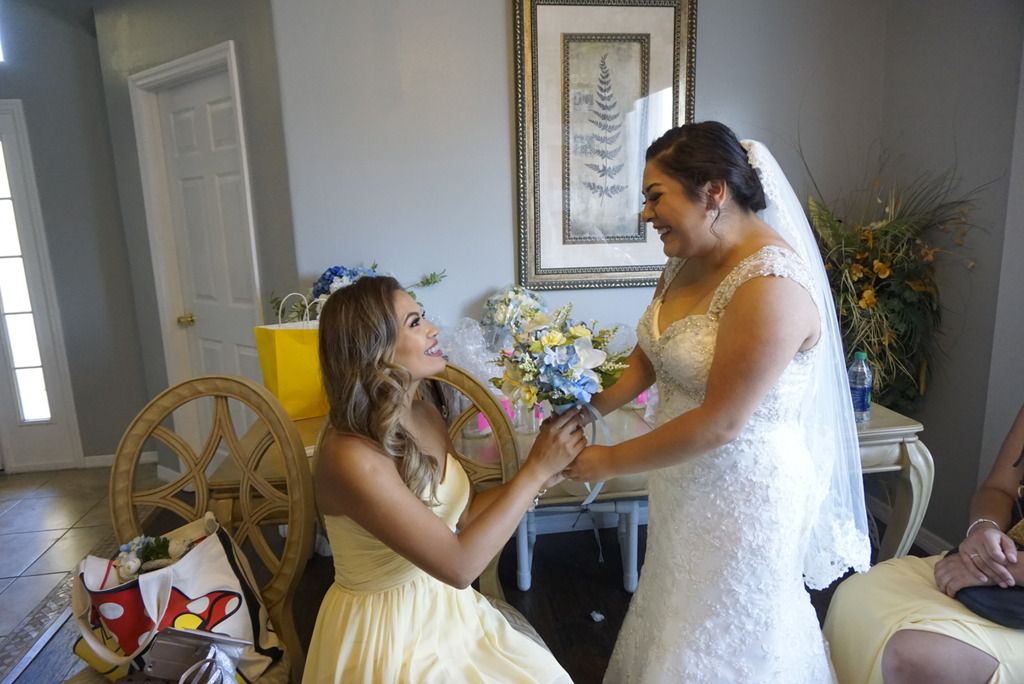 The day of the wedding was very exciting. We rented a seven bedroom house for the week. The whole bridal party stayed in one house and all of the bridesmaids got ready together. We helped each other with hair, makeup, and getting dressed. The Bride also surprised us with some of the cutest gifts. We each got a customized tumbler with our name on it, a pair of sunglasses, gum, tissue paper, and our jewelry for the event. Anything with Mickey's face on it makes this girl happy.
The groomsmen each received a different pair of super hero socks to wear for the wedding day. Ricardo got our favorite Avengers Hero, Iron Man. In the gift bag was also a Cubs shot glass, gum, tie, and suspenders.
We haven't received the professional pictures from the photographer yet but when they do I will update this blog with more pictures. I can't wait for you guys to see them.
3. Beautiful Weather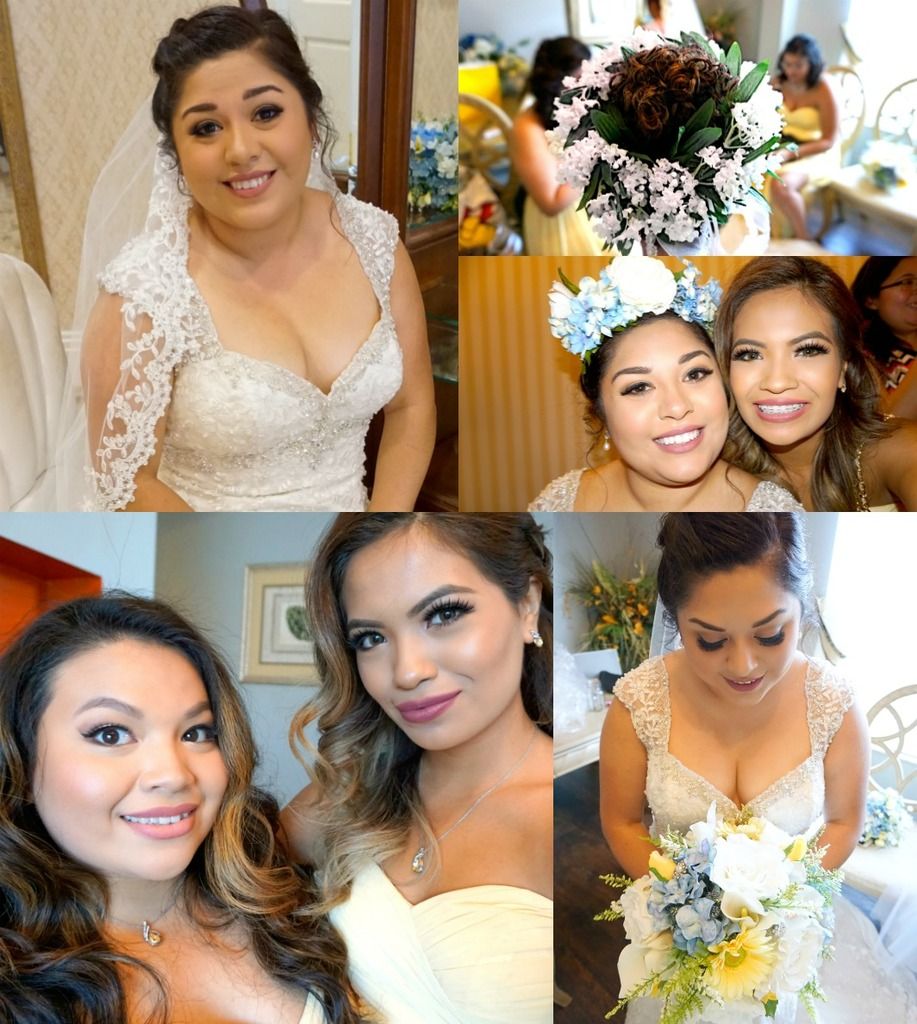 Wedding season is in the Summer which means it's going to be hot outside. In Florida it's ten times more humid and the sun shines brighter too. Which can be great for pictures due to the great lighting with sunny blue skies. Just make sure to come prepared with the right kind of foundation and mascara for the humidity and how warm it will be. I was very proud at the way I did the Brides makeup, she looked stunning through out the entire day. I hight recommend to get your hands on the
Estee Lauder Double wear foundation
, we were all in the same shade 3W1 Tawny. It will last through the warmest sweatiest days without separating. If you have oily skin this baby will keep you matte all day long.
4. Stunning Pictures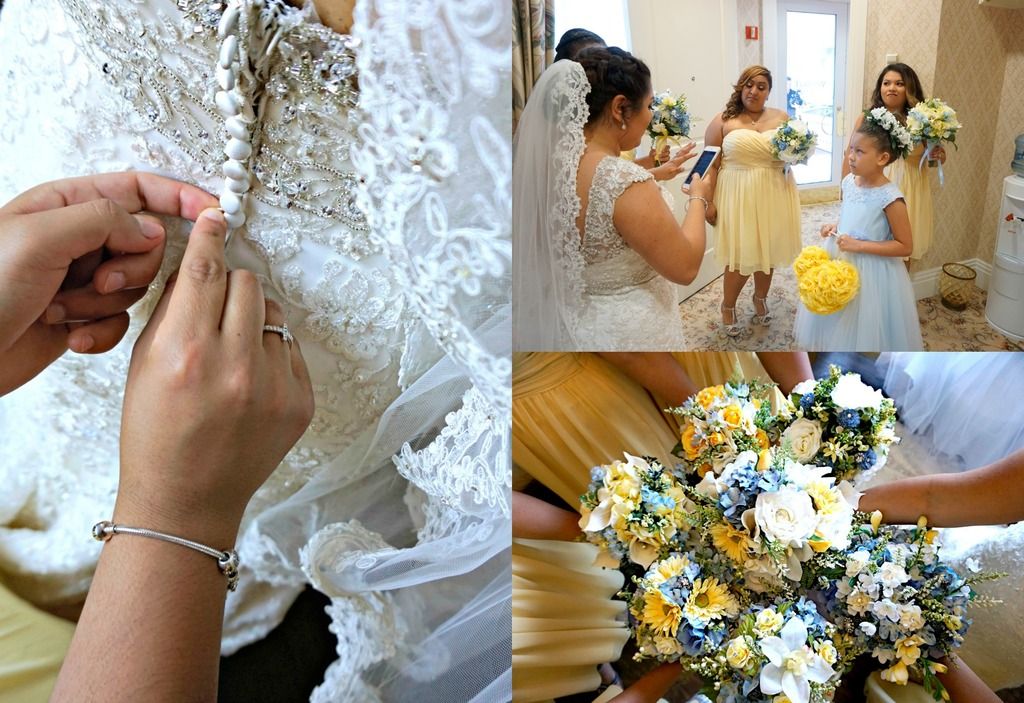 Great weather, flawless makeup, plus stunning views give you beautiful pictures! You can expect to snap pictures at any location and you will have the best backdrops of the resort and parks. From the ceremony to the reception it was all very vivid and memorable.
5. Dance Party With Mickey & Minnie Mouse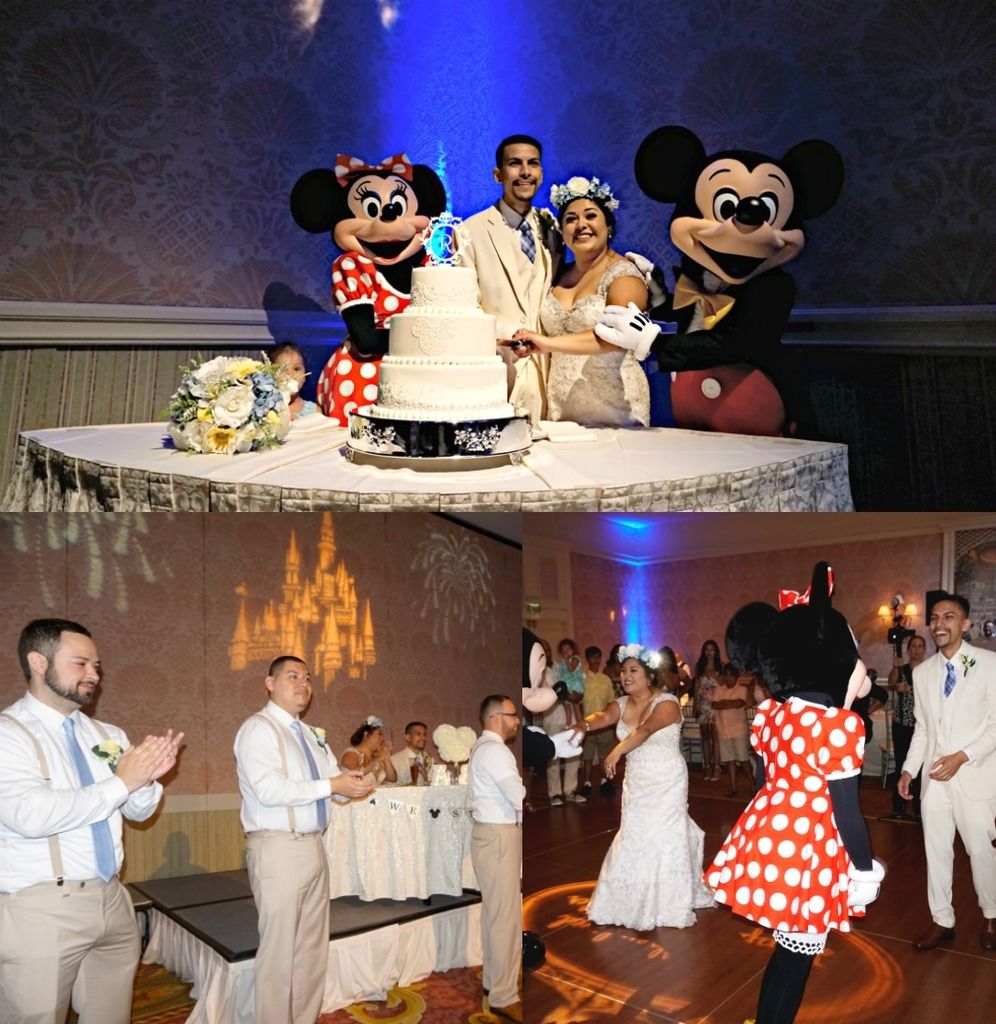 The surprised guests were Mickey and Minnie which were a surprise from the Bride's Mother and Father. They pumped up the crowd and everyone got on the dance floor to party with Mickey and Minnie. They stayed in character the whole time with curtseys and giggles. Which was so adorable to watch. It was fun for the kids attending the wedding too with plenty of photo ops. It really set the mood for a Disney themed wedding. The entire event was very unique and beautiful.
Since you are most likely to stay nearby for a Disney Wedding, there are plenty of opportunities to visit the Disney theme parks. My family and I went to Typhoon Lagoon and Blizzard Beach the day after the wedding. Then the following day we visited Magic Kingdom. Ricardo and I had to make sure to recreate last year's picture holding me up in front of the Cinderella Castle.
I get many questions on how to prepare for a Disney vacation and what are some of the best souvenirs to take back with you. I filmed a
video
to share with you guys my best tips! I'm a Disney fanatic and even have a drawer filled with my collection of Mickey ears.
So many of you guys really enjoyed being part of it when I captured all of the special moments on Snapchat, "belindaselene". Make sure to follow me so you won't miss out on anything else.
Muchos Besos,
Belinda Selene Villa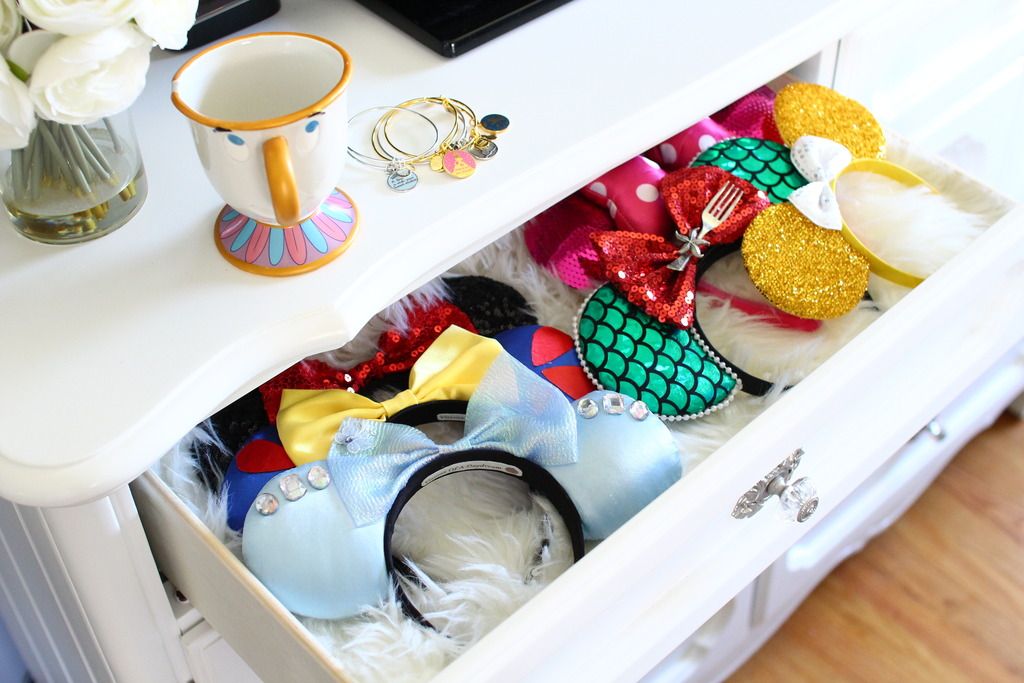 (you can buy the men's shirt and cut it out like I did)